Easter Holidays at Skansen
You will find a wide range of activities for all ages here. Watch and try your hand at Ukrainian egg painting, take on a tricky egg hunt at Lill-Skansen, have your face painted or barbecue sausages at Bollnäs Square! You will meet historical interpreters in period dress in our heritage environments who can tell you more about how Easter was celebrated in different eras, and at Skogens Hus you can create your own Easter decoration to take home. And don't forget to try our 200-metre funicular railway on your way to or from Skansen!
Activities on individual days
Broom making

6 april

A broom is a must for flying to the witches' gathering at Blåkulla on Maundy Thursday! Get help from the village team at Skansen to make your own genuine broom at Skogens hus.

Ukrainian egg painting (pysanky)

7 april

At Skogens hus you can discover how to paint beautiful, decorative eggs according to Ukrainian Easter traditions. Take the opportunity to have a go for yourself!

Latvian and Estonian egg colouring

7 april

Visit Skogens hus and discover how to colour eggs using plants according to Latvian and Estonian traditions, producing attractive patterns and marbling.
Egg tapping and egg rolling

8–9 april

Have a go at two traditional Skåne Easter games at the Skåne Farmstead/Skånegården!

Storytime at Back Mats Cottage

6–10 april

Listen to exciting tales of Easter witches, enchantresses and other magical creatures. 11:00-13:00 and 14:00-16:00.

Face-painting

6–10 april

Be turned into an Easter witch or an Easter bunny at the Forestry Center. What will you choose?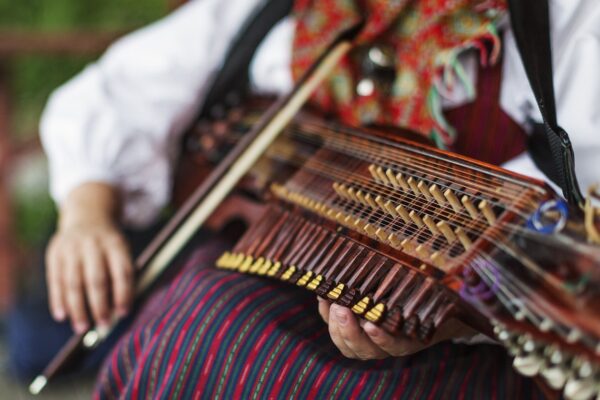 Music and concerts
Easter Saturday, 8 April, 14:00
Easter concert with the Skansen choir at Seglora Church (approx. 35 min)
Easter Sunday, 9 April, 14:00
Easter music with Templets Musikkår at Seglora Church (approx. 35 min)
Easter Saturday, Easter Sunday and Easter Monday, 8-10 April
Folk music with Skansen's musicians at the Älvros Farmstead/Älvrosgården, 12:00-12:50, 13:20-14:00 and 14:20-15:00
Activities every day
Easter in Oktorpsgården

A gloomy Good Friday in the 1870s. Step inside and learn more about customs, folk beliefs and Easter food in the Halland region during this time.

Easter in Posthuset

A Maundy Thursday in the 1910s. The post office manager Per August Nilsson and his wife Anna Sophia are busy sorting and handing out Easter cards to the people of Virserum town!

Easter in Skånegården

An Easter Eve in the 1920s. Here we get to meet the Åkesson family who lived on the farm and see how the table is set with Easter food.

Easter in Järnhandlarbostaden

Easter Sunday in the 1930s. The ironmonger family prepares an Easter party for friends with table decorations and food belonging to the Easter Day celebration.
Egg hunt – quiz trail at Lill-Skansen

Guess which egg is which on our tricky quiz trail at Lill-Skansen! It's not just our birds that lay eggs – here you can meet snakes, insects and turtles that also lay eggs. You will find eggs of all shapes and sizes – everything from the really tiny eggs of leaf insects that are only a few millimetres, to the egg of the Swedish yellow duck that is over five centimetres in height. Did you know that a duck can lay up to 200 eggs a year?

Sausage barbecue

The barbecues will be lit at Bollnäs square and Orsakullen! Bring your own sausages to barbecue or buy them at Bollnäs Square. If you want eat indoors, you can sit in the picnic pavilion (Paviljong Matsäcken) or eat at any of our restaurants or cafés.